Crochet, embroidery and needlepoint have been passions of mine since I was a little girl. These days, I'm especially enjoying crocheting edgings for towels, pillows, runners - all sorts of things.
NW 100 Crochet Edging for Hand Towel
$8.99 + 3.00 s/h
Available: 1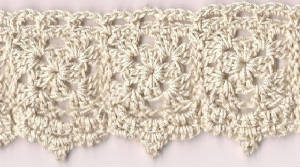 New crocheted edging for hand towel. Cream beige Victorian cottage Style. 100% cotton thread; machine wash cold or warm on gentle cycle; warm iron if needed. Fits towel 16-1/2" – 17" wide.

NW 101 NEW Plush Hand Towel Chocolate Brown Beige Crochet Edging Vintage Buttons
$11.99 + $5.00 s/h
currently on eBay
New Casa Cristina plush chocolate brown hand towel, 100% cotton, trimmed with handmade new Victorian style crocheted edging and accented with vintage buttons.
Machine wash warm or cold, on gentle cycle.